Welcome to St Anne's Catholic Primary School Strathfield South. We are proud of our school and hope the information on this website will help you to learn more.
Our school and parish motto 'Love of God and people' calls us to live out the Gospel values of Jesus – to be active Christian citizens in our 21st century world. We endeavour to do this in an environment which supports, cares for and challenges each member of the community. The school enjoys the constant support of the parish community, and of our parish priest. We are immensely grateful for this support and we consider ourselves in partnership with the parish of St Anne's in the evangelising mission of the Church.
Our school vision – embrace, collaborate, connect, achieve – underpins our shared pedagogical principles, and our aims to address the needs of all students, based on our belief that every one of them can enjoy achievement and success. Our dedicated staff keeps abreast of developments in education, and this is reflected in an integrated, contemporary and engaging learning program, from Kindergarten to Year 6.
We acknowledge the tremendous engagement of our parents in all school endeavours. There are obvious benefits to this parent support, in the enhancement of class programs and the provision of state of the art resources. Importantly, our students are immersed in a great sense of belonging to a community.
Mark McKeown
Principal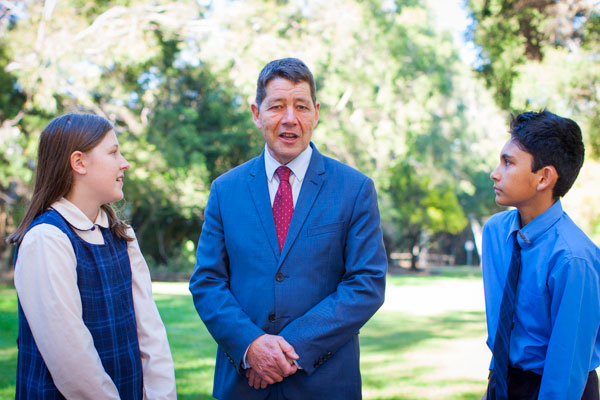 Proudly Part of the Community of Sydney Catholic Schools
Our school is part of a system of over 150 low-fee Catholic schools in the Sydney Archdiocese.
Sydney Catholic Schools are thriving Catholic communities that ignite a love of Christ through excellent teaching and learning to empower students to reach their full potential.